Here are the credits for the 1997 Universal Feature Animation film, Ama and the Mysterious Crystal.
Opening credits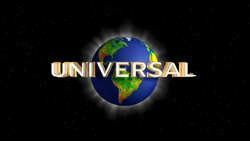 Universal Pictures
presents
AMA AND THE MYSTERIOUS CRYSTAL
Closing Credits
First part of the credits
Directed by
Michael Wildshill
Produced by
John Cohen
Screenplay by
Len Blum
Jonathan Roberts
John August
Story by
Michael Wildshill
Ralph Zondag
Executive Producer
Roy Kobayashi
Film Editor
Rene Edwards
Music by
Mark Mancina
Christina Ricci
Hank Azaria
Patrick Stewart
Last part of the credits
© 1997 Universal City Studios, Inc.
All Rights Reserved.
Universal City Studios, Inc. is the author of this motion picture for the
purposes of the Berne Convention and all national laws giving effect thereto.

The characters and events depicted in this photoplay are fictitious.
Any similarity to actual persons, living or dead, is purely coincidental.
This motion picture is protected under the laws of the United States
and other countries. Unauthorized duplication, distribution or
exhibition may result in civil liability and criminal prosecution.
Created and Produced at
Universal Feature Animation
Universal City, California